Welcome to Downtown Seattle Minuteman Press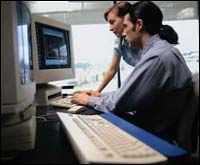 Welcome to Minuteman Press of downtown Seattle, WA!
Conveniently located in the heart of downtown Seattle and Sodo area, we are ready to help you with all your digital, offset, and large format printing needs. Visit our Products & Services area for a list of some of our products and printing services. For software downloads and answers to common digital, offset, or large format printing questions, visit our Resources & Support area. To learn more about us, browse our Company Information section.
We hope you enjoy your visit to this site. If there is anything we can do to further improve your experience, please let us know. We are always looking for ways to better serve our customers.
Minuteman Press Downtown Seattle - Working to keep the Evergreen State as green as it can be!
We believe that there is not a more beautiful place than the Puget Sound on a sunny day. That's why Minuteman Press of Seattle is committed to keeping the Evergreen State as green as it can possibly be, for generations to come. We use soy-oil based inks instead of traditional petroleum-based ink. The vegetable-oil ink, has been a great advancement in the print industry. The introduction of soy based inks has many aesthetic benefits as well as environmental. The lighter oils used to make the inks have much more color clarity than traditional inks, producing amazingly bright and vibrant colors. Our dedication to protecting the environment has set us apart from other area printers. We, at Minuteman Press of Seattle, keep up on the newest printing and recycling trends in Digital, Offset, and Large Format printing, to ensure that we are environmentally friendly, and create the smallest footprint possible. As new alternatives to harmful solutions and out of date processes are found, you can be sure that we will adapt to help keep the Evergreen state as green as it is today.
Seattle Digital Color Printing News Center